Installation - Hardware Preparation

So far, we have the configurations for major equipment. Before we can power on our server, exterior components like power cables or server rack need to be considered as well.
This section contains four parts: A list of server parts, a list of storage devices, a list of network devices, and miscellaneous.
List of Server Parts
| Type | Model | Spec | Number |
| --- | --- | --- | --- |
| Server | DELL R740 | 8 * 2.5 Drive Bay | 3 |
| Server | DELL R630 | 6 * 2.5 Drive Bay | 3 |
| Server | HP DL380G9 | 8 * 2.5 Drive Bay | 3 |
| CPU | Intel Xeon Platinum 8269CY | 26C52T @ 2.5G - 3.8G | 6 |
| CPU | Intel Xeon E5-2650V4 | 12C24T @ 2.2G - 2.9G | 12 |
| CPU | Intel Xeon E5-2640V4 | 10C20T @ 2.4G - 3.4G | 2 |
| CPU | Intel Xeon Platinum 8269CY | 2.5 - 3.8G | 6 |
| Server Front Panel | DELL | R630 | 3 |
| Server Front Panel | DELL | R740 | 3 |
| Memory | Samsung DDR4 RECC | 16G @2133Mhz | 14 |
| Memory | Samsung DDR4 RECC | 32G @2133Mhz | 30 |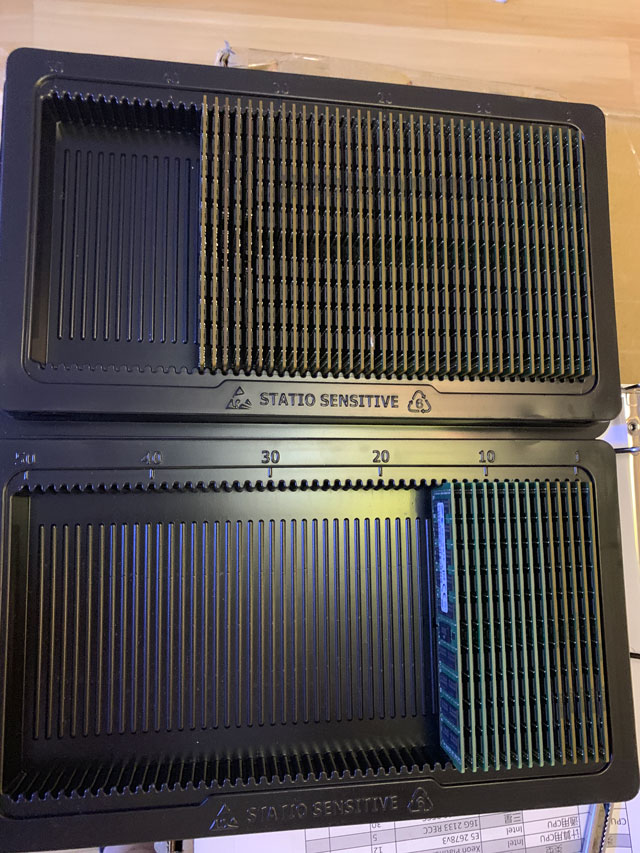 List of Storage Devices
| Type | Model | Purpose | Capacity | Number |
| --- | --- | --- | --- | --- |
| SSD | Micron 5200 ECO | Mixed Read/Write | 480G | 27 |
| SSD | Intel S3610 | Mixed Read/Write | 800G | 19 |
| HDD | WD HC320 | Storage | 8TB | 50 |
| Tape | Fujifilm LTO6 | Cold Data Storage | 2.25TB(After Compression) | 50 |
| Tape | HP Cleaning Tape | Tape Driver Cleaning | N/A | 2 |
| Tape Driver | C0H28A | Tape Read/Write | N/A | 1 |
| Tape Library | HP MSL2024 | Tape Library | N/A | 1 |
| HBA Card | LPE12002 | Tape Driver Connection | N/A | 1 |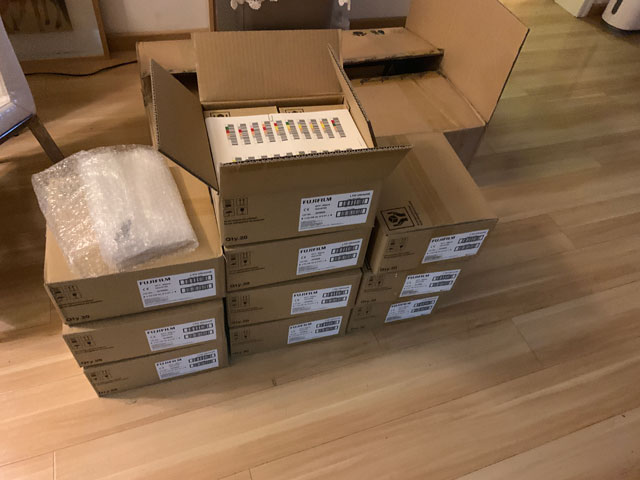 List of Network Devices
| Type | Model | Spec | Length | Number | Usage | Notes |
| --- | --- | --- | --- | --- | --- | --- |
| Tranceiver | Finisar | QSFP-40G-SR4 | N/A | 26 | End Point | N/A |
| Tranceiver | Finisar | SFP 1G | N/A | 1 | Tape Library Connection | N/A |
| Fiber | LC-LC | N/A | 3M | 1 | Tape Library Connection | N/A |
| Fiber | MPO OM4 | 12 Core Male-Male | 3M | 17 | Server Connection | N/A |
| Fiber | MPO OM4 | 12 Core Female-Male | 3M | 7 | Fiber Extension | N/A |
| Fiber | MPO OM4 | MPO - 4LC-LC | 1M | 2 | Fiber Splitter | N/A |
| Fiber Coupler | MPO | N/A | N/A | 10 | Fiber Extension | N/A |
| Network Cable | RJ45 | CAT5e Yellow | 3M | 13 | IPMI Connection | N/A |
| Network Cable | RJ45 | CAT6a Gray | 500M | 2 | General Network Connection | N/A |
| Network Cable | RJ45 Head | CAT6a | N/A | 100 | General Network Connection | N/A |
| Network Coupler | RJ45 | CAT5e | N/A | 10 | Network Cable Extension | N/A |
| Switch | Arista | 7050QX-32 | N/A | 1 | Core Switch | N/A |
| Switch | H3C | S25000 | N/A | 1 | Switch | N/A |
| Gateway | x86 | OpenWRT | N/A | 1 | Internet & Firewall | N/A |
| NIC | Mellanox | MCX354A | N/A | 11 | Server Connection | N/A |
| NIC | LPE12002 | 8G HBA | N/A | 1 | Tape Library Connection | N/A |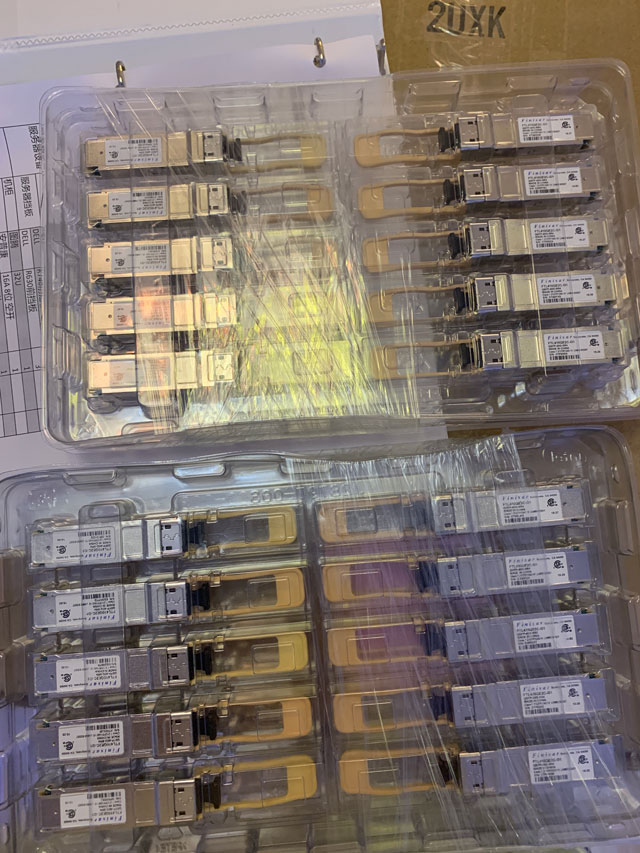 Miscellaneous
| Type | Model | Spec | Number | Usage | Notes |
| --- | --- | --- | --- | --- | --- |
| Rack | 32U | 100(W) * 1200(L) | 1 | Server Hosting | N/A |
| Rack | 22U | 100(W) * 1200(L) | 1 | Server Hosting | N/A |
| PDU | 8 Ports | 16A | 2 | Electricity | N/A |
| Thermal Paste | Shin-Etsu 7868 | 10G | 4 | CPU Cooling | N/A |
| Screw | HDD Screw | Pack of 1000 | 1 | HDD Mounting | N/A |
| Screw | SSD Screw | Pack of 1000 | 1 | SSD Mounting | N/A |
| Disk Converter | 3.5 - 2.5 | N/A | 5 | SSD Mounting | N/A |
| KVM | KVM | 8 Ports | 1 | Server Management | N/A |
| Cable Management | Cable Tie | Pack of 1000 | 1 | Cable management | N/A |
| Cable | Power Cable | 10A | 15 | Electricity | N/A |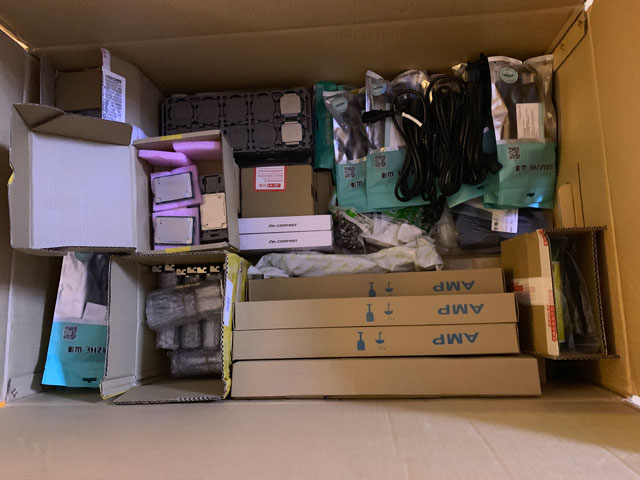 Navigate through the Installation Section
Navigate through the Genetic Project